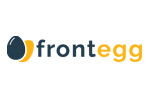 Frontegg
Frontegg is a first-of-its-kind full-stack user management platform, empowering software teams with user infrastructure features for the product-led era. From the most fundamental authentication flows to the most complex use cases, Frontegg has you covered.
Our platform offers innovative security solutions to user and identity management, powered by seamless customer experiences. Frontegg is the only platform that provides complete user management experience, with a customizable Admin Portal layer for your end users. It takes minutes to integrate, and forever to forget about.
We believe while user management starts at auth, it doesn't end there. Modern applications need a user management solution that connects identities to user data, without compromising on security nor privacy.